To unpublish an upload please follow the steps below, but please note that you can only unpublish an upload via the desktop website:
1. While logged into your account, go to your list of public shows or your list of public tracks
2. Under the show you want to unpublish click the More Options button

3. Choose the Move to draft option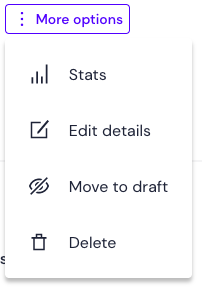 The show will now go into your Drafts and won't be publicly accessible.
What happens to the stats if I unpublish an upload?
If you need to move shows or tracks into drafts to get within the published allowance, all your listener stats, comments, chart positions and favorites on those shows will be preserved and you can always republish them in future.