Jump ahead in this article:
What does boosting a show on Mixcloud mean?
Boosting a show on Mixcloud means that it will be shown in charts and searches related to the tags you have added to the show.
How can I boost my show?
1. Go to your show's page.
2. Under the player and your channel's information, you should see a Boost button.

3. After clicking 'Boost', a window should pop up that will allow you to choose the duration of the boost.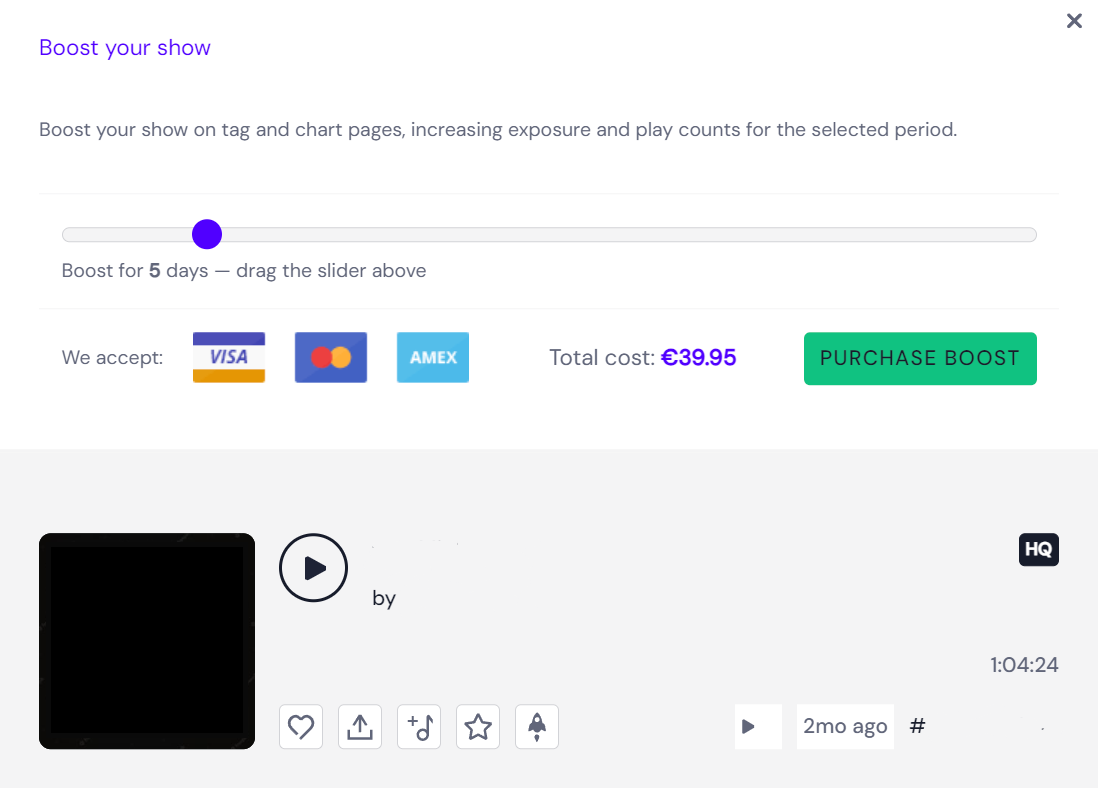 4. Confirm that all details are correct and click 'Purchase boost' in order to go to the checkout page.
5. Add or select a payment method and click 'Pay'.
Where do boosted shows appear?
Boosted shows are shown to the left of the regional or global chart for your main category tag. This placement aims to increase exposure and help listeners discover your show.
For example, a show boosted with the tag #R&B will appear to the left of the regional or global charts for R&B.

What are impressions and how do they relate to boosting?
Impressions are the number of people who see your show. For example, if you are allocated 10,000 impressions, this means your ad will be shown to 10,000 people.
When you purchase a boost, you receive a number of impressions. How many impressions you receive will depend on the number of people boosting shows with the same tag as yours. For example, if five creators boost shows with the tag #house, each would receive 20% of the page views for the House chart.
How does boosting my show help me get more plays?
When you add a boost to your show, it receives a number of impressions. These impressions can help:
get your upload in front of more people who are interested in the tags you've added to your show.
increase the chances that they'll be intrigued to press 'play' and check out your show.
Please keep in mind that we guarantee the number of impressions your show will receive, but not the number of plays. Before boosting your show, please read How can I maximize the effectiveness of my ad?
How can I maximize the effectiveness of my ad?
To make the most out of boosting your show, it's important to review your show's title, description, tags, and cover image, to make these as appealing as possible to potential listeners.
To attract more listeners, make sure to:
Provide detailed and engaging information in the title and description.
Select an eye-catching cover image that reflects your show's style well.
Use accurate and effective tagging by including:

A combination of broad and specific tags that accurately represent your show.
One of the main category tags associated with your show, which can be found on

this page

.
For more insights on how to increase listenership, check out our Hints & Tips guide.
How does tagging impact the number of plays on my show?
Tagging plays an important part in increasing the number of plays on your show. By using relevant and strong tags, you enhance the chances of your show appearing on discover pages and charts. You can add up to 5 tags - we recommended using 2-3 of these for genres. This approach increases the likelihood of attracting listeners to your show.
Should I focus on using big or small genres in my tags?
It's best to use a combination of both popular and niche genres. By doing this, you increase your chances of reaching a wider audience and standing out in less competitive categories. That being said, make sure that you only list the genres included in your show.
How do I check the progress of my boosted shows?
To keep track of your boosted show and its performance, visit the page of the promoted show. On this page, you will find details related to your boost, including the number of views (impressions) and plays the show has received:

By following these suggestions and using the boosting feature effectively, you can increase the visibility and reach of your show on Mixcloud. For further assistance or any additional questions, please don't hesitate to get in touch with our support team by filling out this form.