Jump ahead in this article:
Saving your stream will allow your followers to listen back to your live show on-demand as if you'd uploaded it as a show.
❗Mixcloud is primarily an audio platform so only the live stream's audio will be saved and uploaded.
How do I save the audio from my stream?
As soon as you start broadcasting on Mixcloud Live, we'll automatically start recording the audio from your stream. Recording will continue until:
you stop broadcasting, or
your stream continues past our recording limits (see Are there any limits on the length of the recording?).
How do I publish the recording to my Mixcloud channel?
Once you've stopped broadcasting on Mixcloud Live, you can publish the recording by either clicking the 'View Draft' button on the banner at the top of the page:



Alternatively, you'll find the recording under the Unpublished uploads heading on your profile: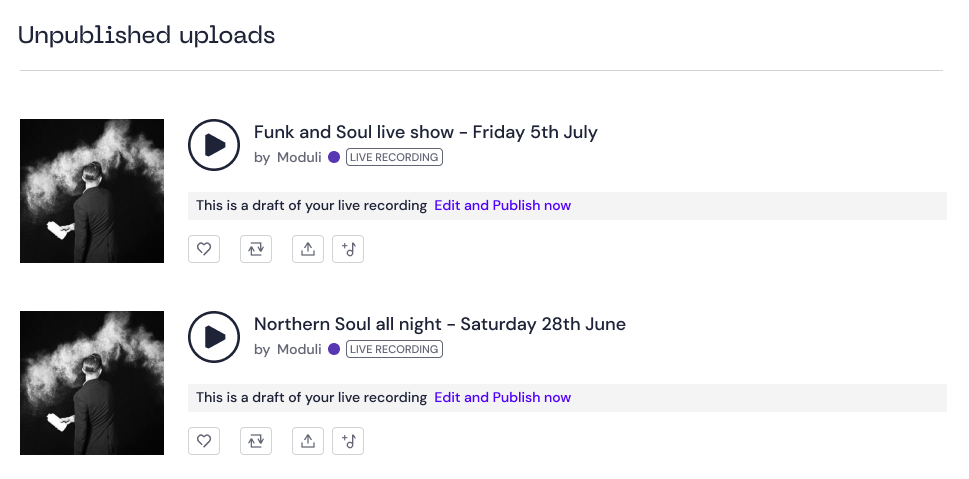 Or at mixcloud.com/upload: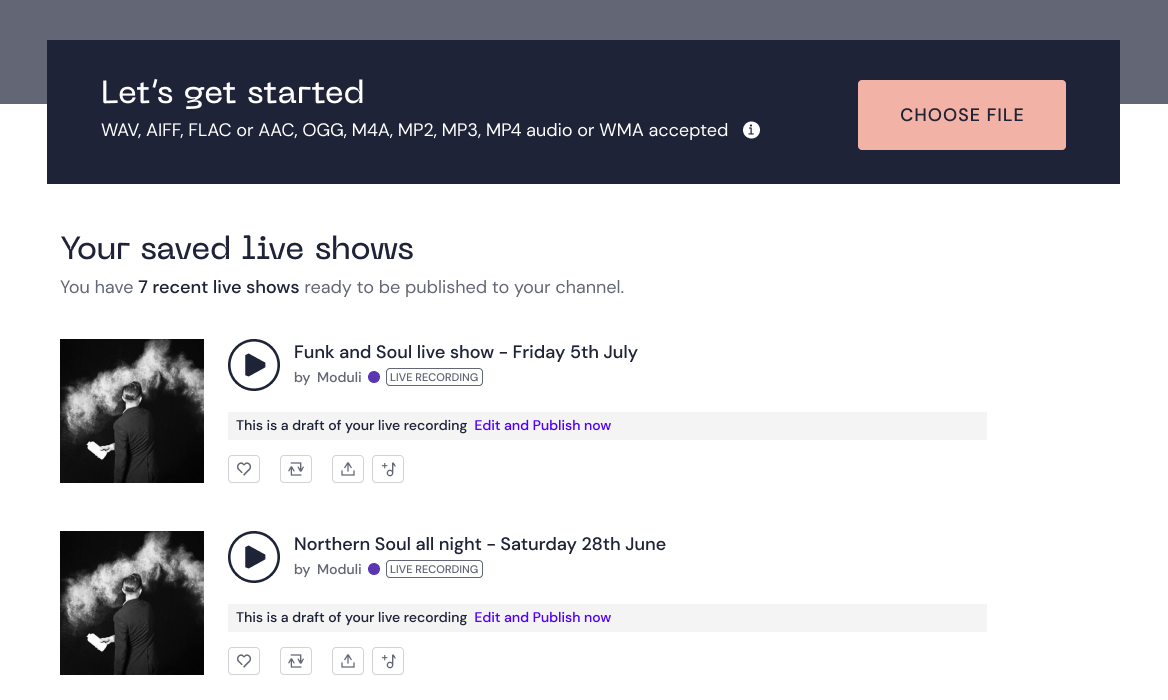 Clicking on any of these instances will take you through to the usual Show Edit page for you to add details such as genre tags and tracklists. For more information on editing a show, see our article here.
Please note that this process can take at least 10 minutes for the recording to be processed once you've finished streaming. This will also depend on the length of your stream.
Are there any limits on the length of the recording?
We're currently only able to save and upload audio for shows between 15 minutes and up to 6 hours long.
If you're planning on streaming for over 6 hours and want to save a recording, you'll need to use your streaming software or another program.
Can I make a stream recording unlisted or exclusive?
Yes, this feature will be available to you as a Pro subscriber. On the editing page before publishing the recording, you'll have the option to make the show private. For more information on how to do this, see our article here.
If you have enabled Channel subscriptions, you'll also have the option to make the show exclusive. For more information on how to do this, see our article here.

What happens if my stream experiences an interruption?
Don't worry if your stream briefly goes offline. Our system will identify the reconnected stream as part of the same show and combine the audio into one recording.
However, if the interruption is longer than 10 minutes, our system will no longer recognise this as the same show and so will save the recordings separately. This also means that broadcasting again within 10 minutes of your last stream will connect the two streams into a single archived show.
How will my followers find my recorded stream?
As the recording of your stream is treated in the same way as an on-demand show upload, your followers will be notified as usual and the show will appear in their Feed.
Additionally, if you publish the show, it will appear in the charts as usual with an extra label to show that it was a stream on Mixcloud Live.
How do I change the recording of my stream?
Currently, it is not possible for us to change the recording of a stream. We recommend recording your show outside of Mixcloud using your streaming software if you want to edit the show before uploading it.
If you need further assistance with saving your live stream recording or have any questions, please fill out this form and we'll get back to you as soon as possible.