Jump ahead in this article:
One of the benefits of subscribing to Mixcloud Pro is that you are able to upload private (or unlisted) shows on Mixcloud. Choosing to mark a show as "unlisted" means you'll have the option to share the show's link with specific people by giving them the direct link to the show.
❕Please note that this option is currently only available on the desktop version of Mixcloud and can only be done during the uploading of a new show.
How can I upload a show as private?
First, you'll need to get started by uploading a show. For more details on how to upload to Mixcloud, you can check our article on the subject here.
Once you've selected a file and a title, you'll be directed to edit the details of your show. As a Pro subscriber, you'll have additional options at the bottom of the page:

By default, shows uploaded to Mixcloud are set to public. However, the option in the bottom-right of the uploading page will allow you to change this:

Can my private show be included in the Charts?
Shows are eligible for entry into the Charts for 7 days from the moment they become publicly available for the first time.
This means that your private show won't qualify for the Charts while it's kept private. If you decide to make the show public, the day you make this change will be counted as the first of the 7-day period when a publicly accessible show can be considered for entry into the Charts.
How can I change an unlisted show to public?
To make the show publicly available, go to the Show's page and click the Edit Show button:
The option to make the show visible to everyone will appear at the bottom of the page: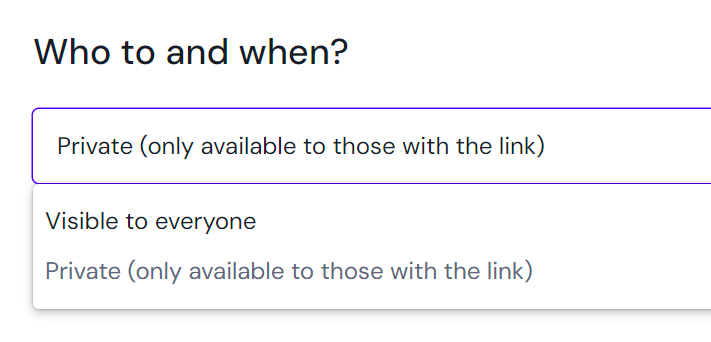 Change Private to Visible to everyone and click Save. The show will now be public.
If you need further assistance with your private upload or have any questions, please fill out this form and we'll get back to you as soon as possible.