Jump ahead in this article:
We understand that audio quality is a top priority for creators when it comes to uploading and sharing music online. That's why we've introduced the HQ audio benefit for Pro members, allowing you to provide your fans with a superior listening experience.
How do I upgrade my shows to HQ audio?
HQ audio is a feature included with our Pro subscription. HQ audio is automatically applied to all shows you upload from the point when your subscription was started.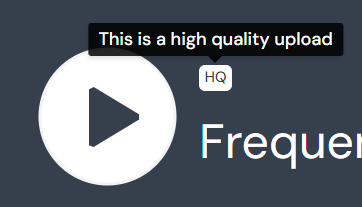 What shows will be in HQ?
All shows, whether uploaded or archived from a live stream, will be available in HQ audio quality from the moment you become a Pro member.
Why wasn't my back catalogue updated?
At the moment, only the shows you upload from the point of subscribing to Pro or, for existing Pro users, the shows uploaded since the beginning of 2022, will be available in HQ. We're exploring the option of re-transcoding older shows to make them available in HQ too, but we don't have a specific timeframe for this yet.
What happens if I cancel my Pro subscription?
All shows on your channel will be downgraded to standard audio quality.
Why is one of my shows not available in HQ?
First, make sure that you didn't upload this show before the start of your Pro subscription, or the start of 2022. If you did, this show won't be upgraded to HQ at this time.
If the show was uploaded after you joined Pro and after the start of 2022, but it's not available in HQ, it might be due to a transcoding error. In such cases, the show should become HQ within a day. If it doesn't, please let us know here.
If you need further assistance with your shows or have any questions, please fill out this form and we'll get back to you as soon as possible.