Jump ahead in this article:
How can I be notified when my favourite creators go live?
Firstly, make sure you're following the creator by going to their Mixcloud channel. Once you've followed them, you can turn email notifications on by clicking the 'Following' button and then 'Turn emails on'.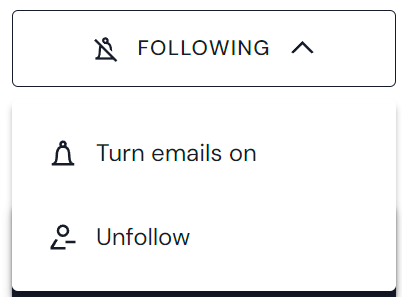 If you see 'Emails disabled' instead of 'Turn emails on', this means that you've disabled all email notifications from your settings.
To turn them back on, go to https://www.mixcloud.com/settings/notifications/ and make sure Email notifications are toggled on. For more information on tailoring your email notifications, check our article How do I change my email notifications?
Additionally, you can follow the social media accounts of the creator(s) whose live streams you're interested in watching. They'll usually post the link to the stream for you to follow.


Who can watch streams on Mixcloud Live?
Anyone can watch a stream on Mixcloud Live - you don't need to be logged into an account to do so.
Where can I watch the stream?
You can view streams using either the Mixcloud app, the desktop website or a mobile browser.
To watch live streams using a desktop or mobile browser, go to https://www.mixcloud.com/live/.
If you're using the mobile app, select the 'Live' tab in the bottom-right of the screen.
❕Due to the nature of the content, streams on Mixcloud Live are not available via Sonos.

How do I use full-screen and theatre mode?
When watching a stream on Mixcloud Live on a desktop, you can choose to watch it in full-screen mode or theatre mode.

To do this, hover over the stream's video with your mouse and click either:
the full-screen icon that appears in the bottom-right:

the theatre mode icon in the bottom right of the stream:


How do I watch a stream on my Smart TV?
We do not currently offer support for Smart TVs via our platform. We recommend connecting your device to your TV via an HDMI cable.

You can also use AirPlay or Chromecast from a desktop device to watch Live on a Smart TV. However, we do not recommend this due to the quality of the connection when streaming via these services.
At the moment, we do not support Live in the Mixcloud AppleTV app and you wouldn't be able to use this to watch the stream. Additionally, there is no support for Chromecast via the Mixcloud apps.


What browser would you recommend for watching live streams?
We'd recommend using Chrome or Firefox to watch Mixcloud Live. If you have several tabs open and experience buffering, make sure to close as many tabs as possible.

Safari can be used to watch Live but will not allow you to watch in full-screen mode due to a recent Safari update. Because of this, we would not recommend using this browser.
How do I send a comment in chat?
To comment in chat, you will need to be logged into your Mixcloud account. Type in the chat box in the bottom-right of the screen and click 'Chat' to send.


How do I reply to someone in chat?
To reply to another commenter or the creator themselves, use @ and then their username.


If you have any further questions or want to share some feedback, please fill out this form and we'll get back to you as soon as possible.