Jump ahead in this article:
Where can I edit my Mixcloud profile?
On a desktop:
Access your account and sign in.
The options in the left-hand-side menu let you manage the following:
Profile: Update your display name, add a biography, and select profile and cover photos. You can also review and modify your connections to social media platforms like Facebook and Twitter.
Applications: Review the applications that are linked to your Mixcloud account.
Notifications: Tailor your notification preferences.
Account: Modify your email address linked to the account and edit your profile's URL (username).
Payments: Manage your subscriptions. For Pro subscribers, this area allows you to track your incoming payments.
In the app:
Tap your profile picture located at the top-left of the screen.
Tap the three dots in the top-right corner.
Inside the Settings section, you'll find the following options:
Account: Adjust your email, password, and username. You can also delete your account here.
Profile: Edit your display name, profile and cover images, and personal information.
Push Notifications: Customize the push notifications you receive within the app.
Email Notifications: Manage the email notifications you receive.
How do I change my username and URL?
To change your Mixcloud username and URL, follow these steps:
Desktop:
Log in and navigate to http://www.mixcloud.com/settings/account.
Scroll down to the Profile URL field under Account Settings: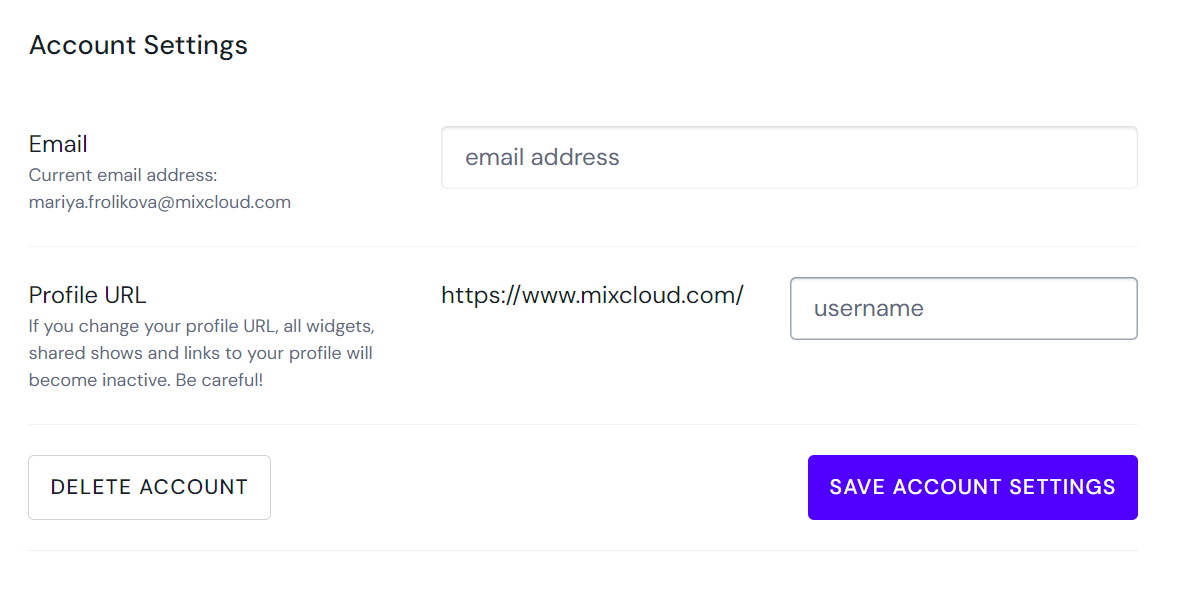 App:
Tap your profile picture located at the top-left corner of the screen.
Tap the three dots located at the top-right corner.
Go to Settings > Account > Profile URL.
❕Changing your username will also adjust your Mixcloud account's URL. This change might impact shared links and embedded shows. However, it won't affect your statistics or followers.
You can see the answers to more frequently asked questions about changing your username by visiting this article.
How do I update my profile picture?
First, please make sure that your picture meets these criteria:
Format: JPEG, GIF, or PNG.

Size: less than 10MB.
Desktop:
Log in to your Mixcloud account

Go to the Profile Picture section and click on 'Choose file'

Choose the file you want and click 'Upload'
Click 'Save Profile Settings' at the bottom of the page
App:
Tap the Library tab.
Enter your Settings by tapping on the cog at the top-right of the screen.
Tap Profile.
If you've connected your Mixcloud account to Facebook and want your profile picture to be the same as your Facebook profile picture, follow the steps below:
Get the URL of your profile.

Go to the Facebook Debugging tool at

https://developers.facebook.com/tools/debug/.

Put your profile URL into the Debugging tool and follow the steps given to sync Facebook to Mixcloud.
Why are the profile edits I made not saving?
If you're having trouble updating your profile, it could be that:
The file is too large (the maximum file size is 10 MB).
The file is the wrong type (we are only able to accept JPEG/GIF/PNG files).
There's a problem with another field on the form (for example, you have a blank display name or your bio is too long).
If you need further assistance with editing your profile or have any questions, please fill out this form and we'll get back to you as soon as possible.