Mixcloud Posts are a way that creators can keep their followers posted with updates and news, beyond the shows they upload on their channel. Posts are a way for creators to communicate closely with their fans and engage in conversation.
Who can post?
Posts are available for any creator subscribed to Mixcloud Pro. For more information on subscribing to Mixcloud Pro, see the plan here.
How do I create a Post?
For information on how to create a Post on Mixcloud, see our article here.
Where can I see Posts?
New posts by creators you follow will show up on their profiles and can be seen by looking at the Posts feed on a profile.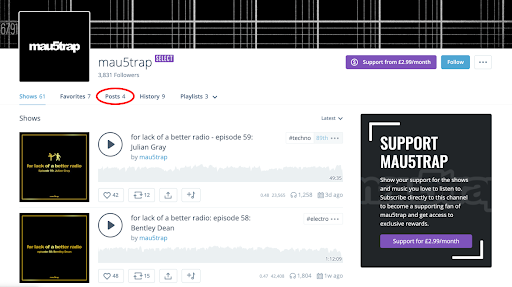 How can I stay informed about what creators are Posting?
If you follow a creator who is posting, you will receive a notification when they post.
Enable your email notifications to receive an email every time a creator you follow published a Post.