Mixcloud will promote your channel subscriptions to your fans. But you are always the best placed person to promote your channel subscriptions to your fans and potential subscribers. To be a successful creator, you should make sure you do this as much as possible. Below are some tips on effective language and tactics we've seen creators use.
Create a compelling message
First off you'll need to make a compelling message which should include the main points of why they should subscribe, such as:
They're supporting you as a creator

They're supporting the artists and rights holders whose music you play

They're supporting audio culture in general

They're becoming part of an inner circle of fans who are closer to you

As part of the inner circle they may get extra benefits (exclusives, offline listening, tracklistings etc)
We've also found that the following phrases have worked well for other creators, you may want to use them in your messaging:
Subscribe to my channel to support the culture

Subscribe to my channel to support me and the artists whose music I play

Get Close to me on Select

Hear exclusive shows, listen offline and see upfront tracklists

Did you know? Music on Mixcloud is fully licensed, so by supporting these shows you're supporting the artists who make these tunes
Promote channel subscriptions in your shows
The most effective place to encourage fans to subscribe to your channel is within your shows.
If you talk in your shows, why not refer to the benefits of subscriptions and how this supports audio culture. Creator Ben Gomori promotes at the beginning of every show.
If you don't talk in your shows, why not consider having jingles made that promote channel subscriptions as a way of breaking up the mix. Creator dublab does this very effectively.
If you're a radio station, as well as having jingles you may want a script in the studio for presenters to read during their show. Creator Soho Radio created one to promote subscriptions on every show.
Guests are great for promoting your channel subscriptions to an even larger audience. Consider asking any guests you have on shows to promote both your show and your channel on their social media or other platforms.
Don't forget the show description! As well as giving information about the show, why not promote subscriptions. If the show is an exclusive, then explain in the description why it's special and how to get it before everyone else.
Promote channel subscriptions through other channels
As well as promoting through your shows, consider using other channels of promotion.
Email
If you have a mailing list, a newsletter or even just the email addresses of your friends and family then promote your show and your channel via email.
Website/Blog
If you don't have one already, consider creating a website or blog to showcase your shows and your channel.

Remember that you can use our easy embedding options to embed all your Mixcloud shows on your website or blog. You can also embed your profile.
Social Media
A key place to promote both your shows and your channel to fans. Make sure your posts are varied and creative to make sure your posts stand out on fan's social feeds.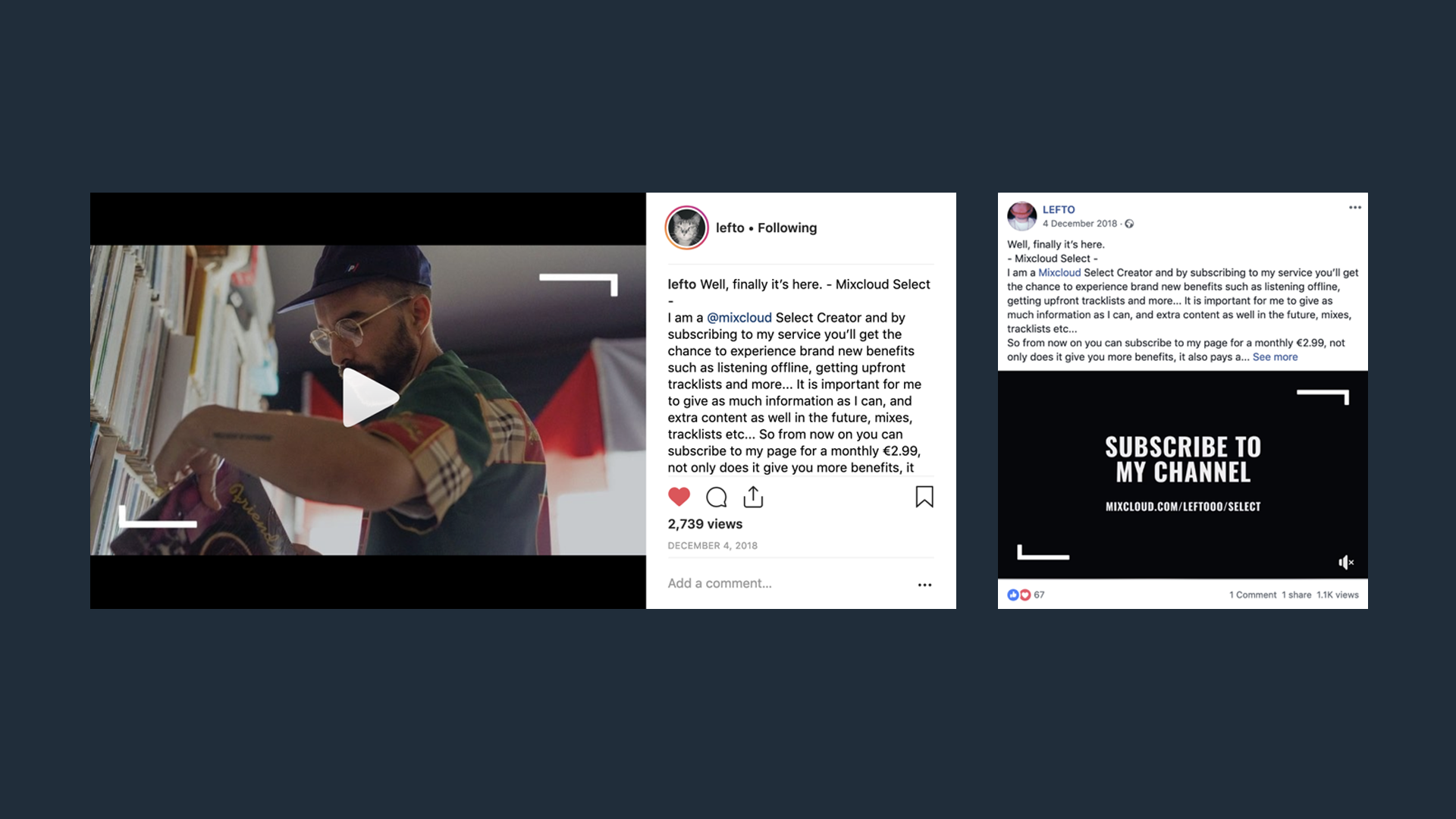 Dos and Don'ts
Do
Tag @MIxcloud in your posts.

Mention us on Twitter and Instagram so we can share your content
Use subscription hashtags.

These are #MixcloudSelect, #GetCloser, #SelectCreator and #Mixcloud
Don't
Refer to your creator status as 'elite' or 'chosen'.

Channel subscriptions is an inclusive program of creators from across genres and styles.